Annacia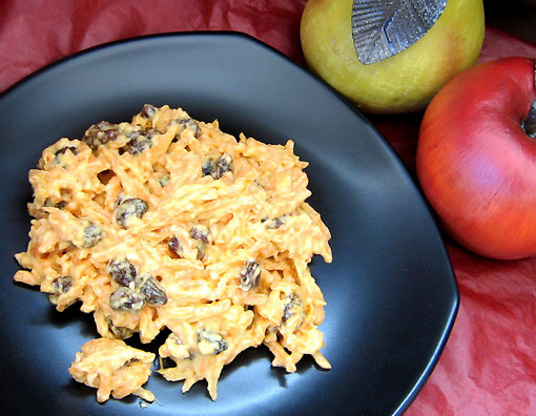 TOH 2001 recipe. Thnx to Esther Bane, Glidden, Iowa. These carrot recipes are certainly going to change my mind about them. They weren't my favorite vegetable.

Oh my heavens, I so glad that I made this recipe. It so yummy that you'll eat the whole thing. I made a half recipe and it's a good thing. I'd be wiggling my nose like a bunny because I just couldn't stop eating it!. I added 1/8-1/4 tsp of Splenda, used cholesterol free mayo and natural pb (no added fat or sugar). I bought really fresh organic carrots yesterday and and this salad was worth the wee splurge. I'll be happily munching this all summer long. Made for PAC, Spring 09.
In a bowl, combine the mayonnaise and peanut butter. Stir in the carrots and raisins. Cover and refrigerate until serving.