Harriet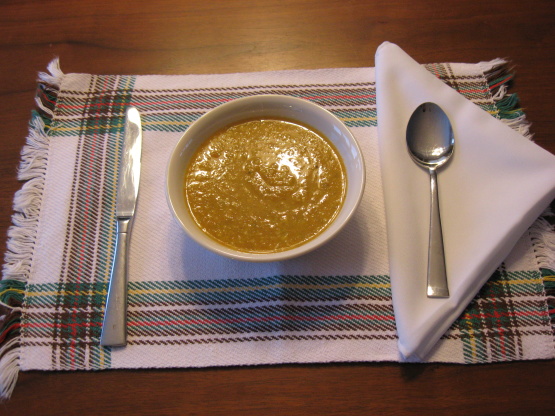 A delicious soup inspired by a Dr. Gillian McKeith recipe.
2 1⁄2 cups onions, chopped (about 3 medium)

6

garlic cloves, minced

4

cups carrots, peeled and chopped
1 1⁄2 cups celery, chopped (approx 5 stalks)

8

teaspoons low-sodium vegetable bouillon granules (or enough for 8 cups of water)
1 1⁄4 teaspoons cumin

8

cups water

200

g ground almonds
black pepper, to taste
Bring onions, garlic, carrots, celery, stock and water to a boil.
Reduce heat and simmer until vegetables are tender (approx 30 minutes).
Remove from heat, strain vegetables (reserving the stock).
Blend vegetables in a food processor or blender until smooth.
Stir in ground almonds and enough stock to make desired soup consistency.
Add cumin and black pepper.