MsBindy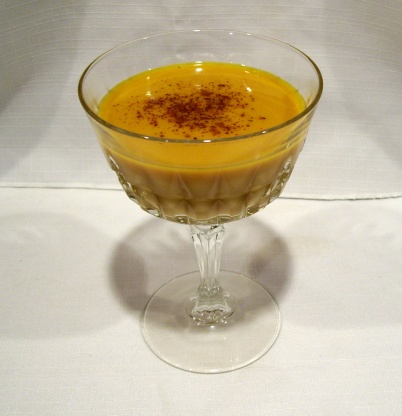 This was inspired by RSC#10 ingredients. Making a drink seemed liked the hardest category so I took the challenge. I found another recipe that used barley in a drink and went from there. I also wanted to enter a Vegan recipe and succeeded with this. It was an adventure! Enjoy this healthy earthy delight.

This was interesting. I was not expecting the turmeric color of this drink, but I guess that is what the carrots did. This was fun for a novelty, but can't really say that I will make it again. I can say I enjoyed it much more hot than cold, and I kept the Splenda to a minimum. Any more, and I think it would have been too sweet. I applaud your efforts at making a drink out the RSC ingredients.
Rinse pearl barley and cover with cold water in a medium pot.
Bring to a boil and drain.
Pour 4 cups of fresh water into the pot with the barley along with the cinnamon sticks and nutmeg.
In a blender puree 1 cup water, pecans, carrots and lemon zest.
Add puree to pot.
Bring to a boil and then simmer over very low heat for 45 minutes.
Strain through a fine mesh sieve and or cheesecloth. Press out all of the liquid. You may need to strain it twice.
Stir in Splenda and extract to taste.
Enjoy hot or cold.
Top with ground cinnamon or nutmeg.