Bayhill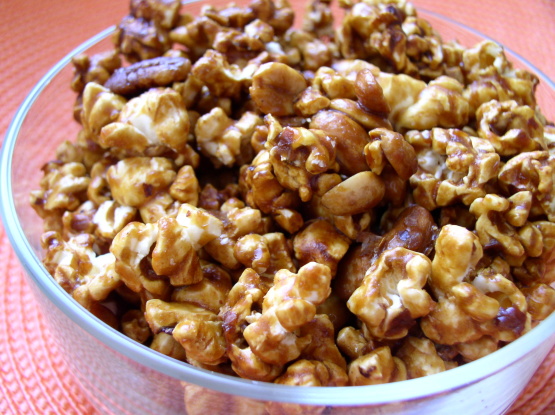 This recipe comes from a neighbor we used to have. She'd bring it to all the neighborhood gatherings. VERY YUMMY! Having said that... I haven't tried actually making it yet, so if you decide to try it, let me know what you think.
Delicious! This is identical to my caramel corn recipe except mine doesn't have nuts. I have found that it is better to reduce the baking time to 45 minutes because it starts to get dark and burn when baked for 1 hour. This is a family favorite and the nuts are a nice addition. Thank you for sharing this delicious recipe. I made this for PAC spring 2007.
Preheat oven to 250 degrees.
Place popped popcorn into a large 4" deep buttered baking pan and place it in the oven to keep warm.
In a large saucepan, melt the butter over low heat.
Stir in brown sugar, corn syrup, and salt.
Bring to a boil, stirring constantly.
Boil without stirring for 5 minutes.
Remove from the heat and quickly stir in the soda & vanilla.
Remove popcorn from the oven.
Slowly pour syrup mixture over popcorn and add nut mix, mixing well.
Butter a 15.5"x10.5"x1" baking pan.
Turn all into the pan.
Bake at 250 degrees for 1 hour, stirring every 15 minutes.
Remove from oven & cool completely.
Break or cut apart.
Store in tightly covered container.