Bergy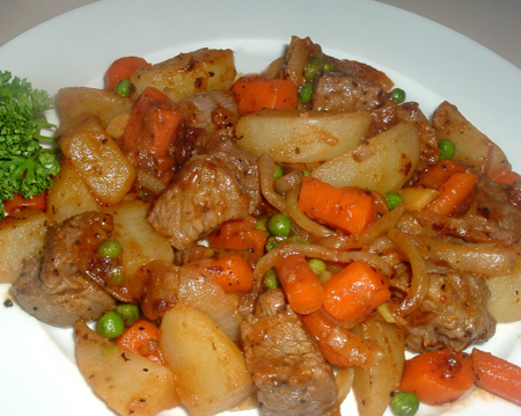 Yummy yummy stuff! Best to use a slow cooker for this. Alternatively, do keep an eye on the stove and keep stirring to ensure the beef at the bottom will not be burnt! I promise it's worth the effort! You may like to adjust the seasoning according to your taste!

Top Review by Bergy
I would like to rate this 5 stars but the instructions are a little vague -there are no cooking times for the slow cooker nor stove top method. . I changed the wayI cooked the recipe. With the low amount of liquid I was worried about having it in the slow cooker for the amount of time it would take to cook the veggies. The same with stove top with raw veggies. I didn't want to burn the meat. This worry may have been foundless .What I did I pre cooked the carrots & the potatoes - just to the point of being done. Sauteed the onions(I added spice chili flakes, garlic & ginger in with the onions to suit my taste of spicy) til they were almost translucent, added the beef that had been marinating overnight. Used medium high heat & stir fried it until ithe meat was almost done -medium rare . Then I added the pre cooked potatoes & carrots. Watched carefully stirr frying the whole mixture after 5 minutes I added 1 1/2 cups frozen peas (for added color aswell as flavor) and worked them through the mixture.. Five more minutes and it was ready to serve. The recipe says to adjust your seasoning - - I added 3 cloves of choped garlic, 1 1/2 tsp fresh ginger and 1 tsp Chili flakes. Spoicy & Oh so good. Thanks Cook Food Mood for posting this recipe that I enjoyed so much!
Marinate beef with soy sauce, cornstarch, sesame oil overnight.
Put all ingredients into the slow cooker and cook till beef is tender. Add more seasoning to taste.
Alternatively, simmer on low heat, stirring the pot frequently to prevent burning at the base.