Boomette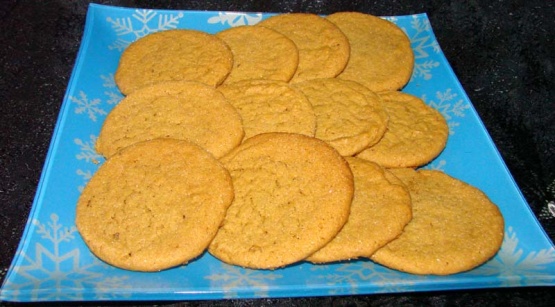 This is from a Treasury of Holiday Cookies, a supermarket booklet that I picked up a couple of years ago. I have wanted to make these cookies and keep misplacing the booklet. If I post it, maybe I will make them.

Very tasty spice cookies. However, next time I'll replace half the shortening with butter for a bit more flavor. I also didn't bother rolling the dough into balls first; just dropped by spoonfuls onto baking sheet, then pressed flat with sugar-dipped glass. My teenagers love these cookies also.
Preheat the oven to 350 degrees; combine the flour, baking soda, spices and salt in a medium bowl; set aside.
Beat the sugar, shortening, molasses and vanilla at medium speed until creamy.
Add eggs, beating well after each; gradually add flour mixture, mixing at low speed until blended.
Beat at medium speed until thick dough forms; shape into 1 1/2 inch balls.
Place 3 inches apart on ungreased cookie sheets; flatten with bottom of a glass dipped in sugar.
Bake for 10 minutes or until cookies look dry, transfer to a wire rack to cool.