pprigel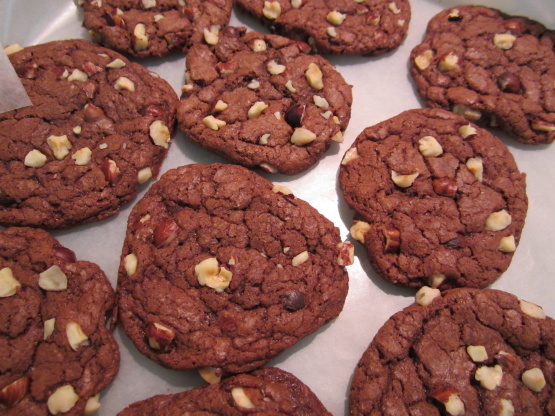 This recipe was in my Cuisine at Home magazine. They described the cookies as having chewy centers and crisp edges and note to remove the cookies from the oven when the centers look underdone. Posting for safe keeping.
Whisk together flour, cocoa, baking soda and salt in a small bowl and set aside.
Beat butter and sugar with a mixer on medium, 5 minutes. Add eggs one at a time beating to fully incorporate before adding the next. Add Nutella and vanilla, beat until combined. Add flour mixture; mix just until combined. Chill dough 4 hours or overnight.
Preheat oven to 350 degrees. Line baking sheets with parchment paper.
Scoop dough with a #30 scoop (scant 3 T.) roll in hazelnuts. Bake cookies, six at a time, until edges are set, about 15 minutes. Let cookies cool on baking sheets.