CoffeeB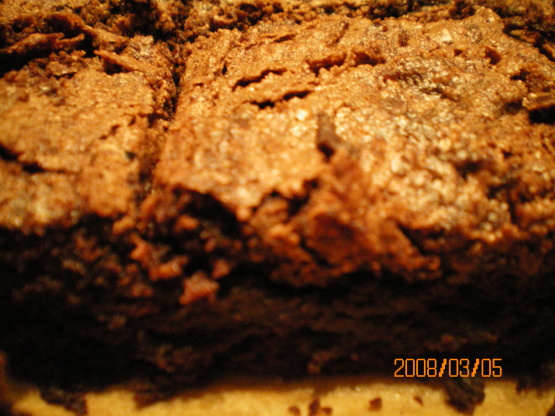 I grabbed this recipe off a local magazine, edited it a little, and voila! It's really yummy.
WOW! These were awesome!! We love Nutella and this hit the spot. I used 3/4 c. butter and butter flavored shortening mix, strong brewed coffee, added 1/2 tsp vanilla and 1/4 tsp salt. I baked at 350 F for 25 minutes. Instead of swirling the nutella in, I frosted them with the whole jar. Oh, my! These were to die for! Super moist and delicious!
Preheat the oven to 180 degrees Celsius Line a 9-inch square baking tin with parchment paper, with an extra 1cm on the sides.
Melt the butter and unsweetened chocolate together over a pan of simmering water. Stir until smooth and combined; leave to cool for 5 minutes.
Meanwhile, sift the flour, baking powder and cocoa powder together.
Whisk the eggs and coffee into the chocolate mixture. Add the flour mixture and sugar; stir well to combine.
Pour the batter into prepared pan. Swirl the Nutella into the brownies and bake for around 25 minutes. You'll want these to be fudgy and a little under-cooked when removed from the oven, but when they cool and firm up they're really good!
Alternatively, bake for 30 minutes for a cake-like texture.