Prep 20 mins
Cook 40 mins

I have not tried this recipe yet, so I'm putting it here for safe keeping. I love Nutella and Biscotti and figure you can't go wrong to combine the two.
Directions
Preheat oven to 350°F.
Sift together flour, cocoa, baking powder, baking soda and salt in a medium bowl.
Beat eggs in a large bowl until frothy.
Add sugar and continue beating on high for 2 minutes.
Stir in Nutella.
Add flour mixture to egg mixture and stir until well combined.
Stir in chocolate chips and hazelnuts, if using.
Divide dough into 2 or 3 logs with well floured hands and arrange on a parchment lined baking sheet. Press logs into rectangles approximately 1/2 inch thick.
Bake at 350F for 20 minutes.
Remove from oven.
Turn down oven heat to 300°F.
Using a serrated knife, cut logs into 1/3-1/2 inch slices. Arrange on baking sheet and return to oven.
Bake for 10-12 minutes, turn biscotti over and bake an additional 10-12 minutes (depending on the thickness of your slices).
Remove to a wire rack to cool. Store in an airtight container.
Most Helpful
really tasty and easy. After much searching I finally found a perfect biscotti pan on amazon.com. It's made by USA pans and has a ribbed silicone layer. With a light coat of spray the biscotti popped right out. The full recipe fits just right, no shaping etc. No I'm not selling anything,just wanted to share a great find.
YUM! I've never made biscotti before and chose this recipe to try because I love nutella. These were delish! I've made this recipe twice now. I formed the dough into 3 logs, each 1" thick. Also, I had to increase the initial bake time from 20 minutes to 25 minutes (stick a toothpick in the center & when it comes out clean you are good to go!) After cutting the biscotti I baked it again for 14 minutes on each side. I didn't have hazelnuts but added white chocolate chips. Thanks Ginny for this recipe - it's a definite keeper!!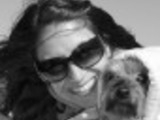 I added a little more flour and used white choc chips instead, and made this recipe into cookies. They were delicous!!