Boomette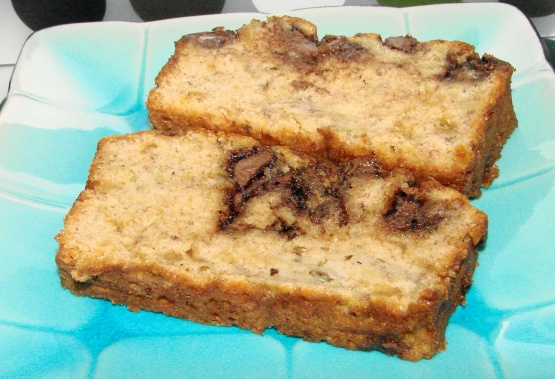 I found this on Kidspot's website, yum!

Would you believe I registered on the website to review this recipe! LOL.<br/><br/>It was amazing, the recipe, as well as the process was simple. I did get a goose-bump or two when I combined the egg,oil mixture with the dry ingredients. The batter became too powdery, and something started nagging inside of me to add some milk or water....and I went through the recipe thrice to see if there was any liquid AT ALL! I told myself to take a chill pill and let the chef handle the situation, and continued with adding the mashed bananas, and viola! It was simply perfect.<br/><br/>Since I have a 5L oven, I had to work my math a bit with the gas marks. Instead of baking at 200C, I preheated my oven at 180C and then while baking I brought it down to 145C and baked for 60 minutes, as told in the recipe.<br/><br/>Glad I tried it. It was amazing. and the aroma...*sigh*
Preheat oven to 180°C Grease and line a 11cm x 21cm loaf pan.
Sift the flour, baking powder and cinnamon into a large bowl. Stir in the sugars.
In a separate bowl, combine the eggs, oil and vanilla.
Add to the dry ingredients with mashed banana and fold until just combined.
Pour the mixture into the loaf pan. Using a teaspoon, drop the Nutella across the top of the mixture, then mix it into the cake mix by inserting a cake skewer or a knife into the cake batter and swirling it around a couple of time.
Cook for 50 minutes or until a skewer comes out clean. Turn out onto a rack and allow to cool for 10 minutes before slicing and serving.