Kim127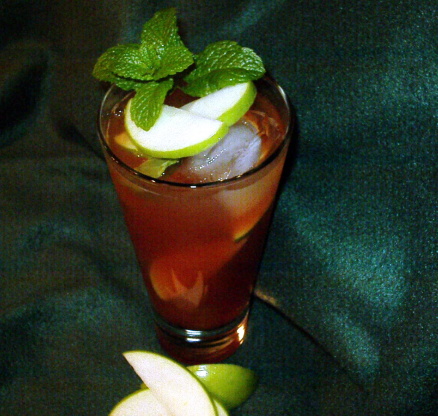 Frangelico and apple....perfect for Fall!!! **Edited to add muddling of mint as suggested by reviewers. Although not in the original recipe, I agree that this would enhance the drink IMHO. Take it or leave it - make to your personal preference. ;)

Top Review by Kim127
I've been on an apple cider kick lately and was looking for different ways to use it. I thought this sounded good but a bit different. It really didn't taste anything like I thought it would, it was much better. I think the cider really highlighted the nuttiness of the Frangelico with just a bit of sweet and tart mixed in. I added an extra ounce of cider with mine and had to leave out the bitters. I would muddle the mint leaves a little before shaking. Thanks Mommy DIva, I can always count on you!
Begin by muddling the mint in a shaker; add remaining ingredients with a small amount of ice.
Shake all ingredients and pour over ice in a tall (8oz) glass.
Garnish with a slice of apple and enjoy! ;).