mizmoxie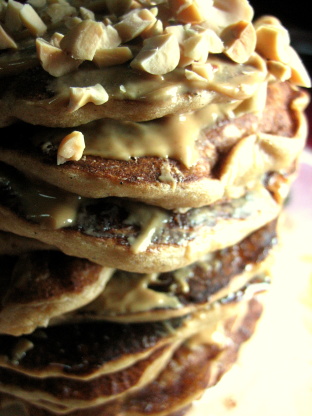 This recipe is my own variation of an eggless pancake, dressed up with a rich peanut flavor. Chopped, roasted peanuts are added to the batter, and smooth peanut butter subs for regular butter between these tender breakfast cakes. Everything is topped with the sweetness of honey. Don't forget to leave some peanuts left over for a garnish! (Note: This recipe was created with ingredients found in a Korean grocery, though Western chefs shouldn't have any trouble with the recipe, see substitutions noted below.)
Dry-roast the chopped peanuts in a griddle over medium heat until lightly toasted. Set aside to cool.
Combine flour, sugar, baking powder, vanilla powder, salt, and cinnamon in a small bowl. Add milk, oil, and half of roasted peanuts; beat with a fork until smooth. Pour batter onto a hot, oiled griddle (in ~1/4-cup increments).
Flip quickly when bubbles break the surface, and the edges are a bit stiffened. Cook one minute longer, then transfer to a serving plate. Repeat with remaining batter.
As you stack the pancakes, smoothing a thin layer of peanut butter over each cake. When finished, spoon the remaining chopped peanuts over the pancake stack, and douse with honey syrup. Serve warm with a glass of soy milk. Enjoy!