vrvrvr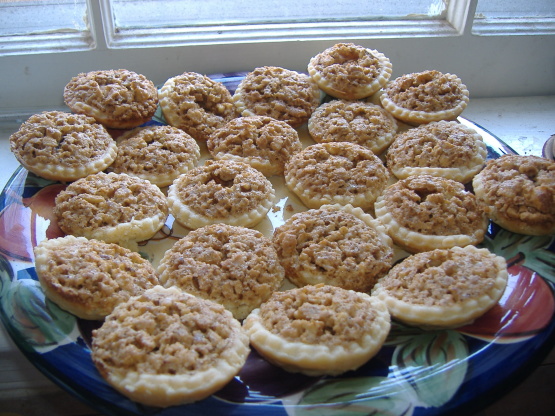 This Nut Cups recipe is from my Great Aunt Millie. Alot of my families recipes were passed down from generation to generation. Several years ago, I revised my grandmothers recipes and added more of my own and my families and put them into a cookbook for safe keeping. This is just one of the many dessert recipes that has been handed down. I hope you enjoy them.

Top Review by vrvrvr
This is a great recipe! I ended up rolling out the dough and cutting small rounds with a biscuit cutter which gave me 24 crusts for the mini-muffin pan. (I had enough crust leftover to make a few crisps in the oven sprinkled with cinnamon and sugar.) The dough handled beautifully on a floured surface. The amount of filling was perfect for the 24 mini-tarts. The filling is very sweet and rich. Everyone loved these! Thank you for posting.
Blend margarine and soft cream cheese until creamy.
Add 1 cup sifted flour.
Divide mixture into 16 balls and press into tiny muffins tins.
Mix filling ingredients together.
Fill nut cups with the filling mixture.
Bake at 350 degrees Fahrenheit for 15 minutes.
Reduce heat to 250 degrees Fahrenheit and bake for 10 minutes or until done.
Let stand a few minutes before removing from tins.