Nut-Crusted Chicken Breasts
diner524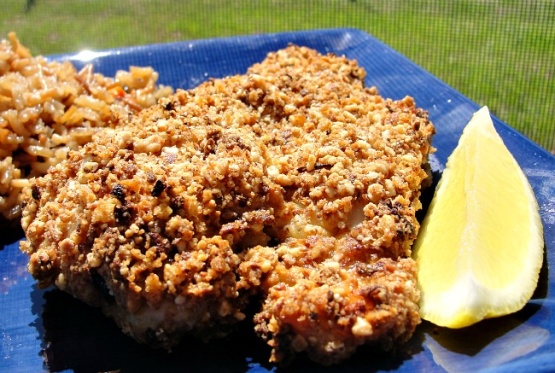 Adapted from Cook's Illustrated. Almonds work best, but any nut will do. If your chicken breasts have the tenderloin attached, remove it.

This recipe is AMAZING! I followed the recipe to a "T" using (whole) almonds. I would suggest chopping them a bit before putting them in the food processor. The amounts were spot on, I didn't have any nut/ panko mixture left over. Don't forget the lemon wedges @ serving, it really brightens up the chicken. Also, baking on a wire rack is critical so that top & bottom stay crunchy. I served with recipe#256364 , steamed broccoli and a tomato avocado salad. Thanks a bunch Dr. G. This is a real keeper and company worthy.
Preheat oven to 350°F Poke each breast several times with a fork. Sprinkle each breast with 1/2 tsp kosher salt, coating both sides. Refrigerate, uncovered, 15-20 minutes.
Process nuts in food processor, about 20 1-second pulses, until it looks like coarse meal. Heat butter in skillet over medium flame until melted. Swirl constantly until butter is brown and smells nutty, 4-5 minutes. Add shallot and 1/4 tsp kosher salt. Cook, stirring constantly, until shallot is soft, about 2 minutes. Reduce heat to medium-low. Add nuts and panko and stir often until golden brown, 10-12 minutes. Transfer to a shallow dish and stir in lemon zest, thyme and cayenne.
Beat egg, mustard and black pepper in a second bowl; place flour in a third dish. Pat breasts dry. Dip breasts, one at a time, into flour, patting off excess, then into egg, then into nut mixture. Scoop nut mixture on top of the chicken and press it down hard to make it adhere. Place breast on a rack placed over a cookie sheet, then prepare the second one.
Place rack in lower-middle of preheated oven and bake until internal temperature of chicken is 160F, 20-25 minutes. Rest 5 minutes, then serve with lemon wedges.