Nut and Oat Choc-Chip Biscuits
Annacia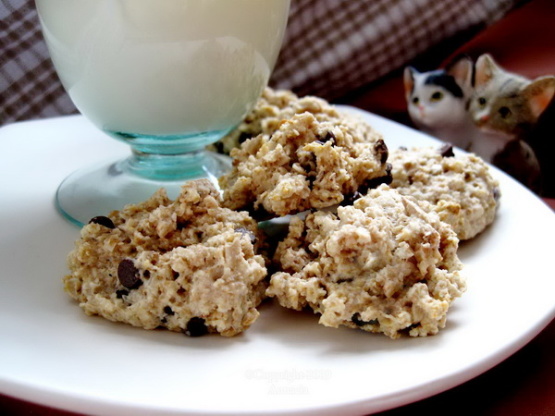 From Australian Diabetic Living. Times are estimated.

These are perfect with a glass of milk. Very tasty and not really sweet. I forgot to buy walnuts yesterday so I used sunflower seeds instead, I do believe that the nuts would have been better but the seeds did fine in their stand in role. I used Splenda instead of sugar and cut the oil in half and made up the difference with unsweetened applesauce. Not really too sure how much 1 7/8 "ounces" of egg is so I used just shy of 1/4 cup of egg white. While they are firm on the outside they are soft and tender on the inside. Lastly, I don't know why 2 sheets are ask for, I did as ask expecting them to spread flat but they didn't move at all. They finished baking in the exact size and shape that they were dropped in. If you don't care for a lot of angles on your cookies smooth them before baking *wink*.
Preheat oven to 160°C.
Line two baking trays with non-stick baking paper.
In a large bowl, put the flour, oats, oat bran, wheat germ, skim milk powder and baking powder, mix well.
In a medium bowl whisk the egg and milk together and then whisk in the sugar (or equivalent), the oil and vanilla essence.
Now mix the wet and dry ingredients together and then stir in the chocolate chips, walnuts and coconut.
Drop heaped teaspoonfuls of mixture on to the trays about 5 cm apart.
Bake for 10 to 12 minutes or until edges are set and bottoms are light brown.
Transfer to a wire rack and set aise to cool.
Will keep for up to 4 days in an airtight container.