David04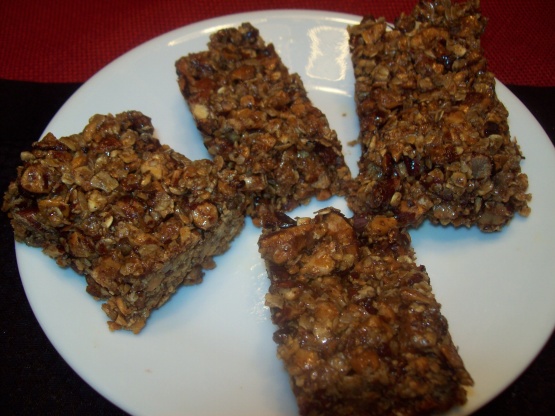 Homemade Oat and Nut bars I made up when I had a bunch of smoked almonds that no one was eating. It turned out pretty darn good and close to the real thing.
2

cups almonds, crushed can use any kind of nuts

1

cup whole oats

2

tablespoons cinnamon
1⁄2 cup honey
1⁄4 cup raisins
Preheat oven to 400F Degrees.
Place whole almonds in a zip-lock bag and crush with either a rolling pin or a mallet.
Pour in whole oats and cinnamon and shake bag to mix evenly.
Pour nut mixture onto a cookie sheet and bake for 10 minutes. Be sure to stir every 2-4 minutes to avoid burning.
Allow nut mixture to cool.
Pour into a large mixing bowl and add raisins and honey. Stir mixture to ensure it is mixed evenly.
Pour mixture into an 8 x 8 inch pan, pressing the mixture to pack it into the bottom of the pan.
Place in the refrigerator for at least 1 hour to allow it to cool and set, it will harden in the refrigerator.
Cut into 16 bars and enjoy.