Nuoc Cham (Vietnamese Dipping Sauce)
awalde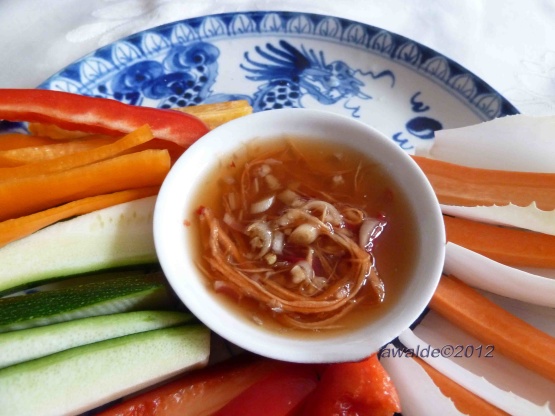 This salty-sour concoction appears on every table in Vietnam, and is used as freely as salt and pepper. As an all-purpose condiment, it gets splashed, drizzled or sloshed over all types of dishes. You can make it ahead, and it keeps well in the fridge for several days.

Top Review by awalde
WOW! Nice souvenir from Vietman for me as well! I visited Vietnam 20 year ago, as all were still on bycicles. On the table this sauce were served with fresh vegetals most of times. It's a really easy to make condiments that can be used in different ways. I can imagine this as salad dressing for a cold rice noodle salad with vegetables and prawns very well.
I served it with fresh vegetables on an original Vietnames dish!
Thanks a lot for offering us this recipe!
In a small bowl, combine the hot water and grated palm sugar (be sure to pack the grated sugar into the tablespoon so you have enough sweetening). Stir until sugar dissolves.
Add remaining ingredients and stir well.