TJW2725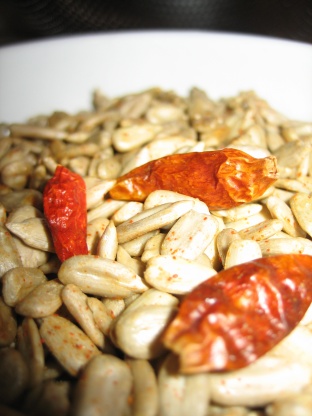 These little guys will be the talk of the party! Be sure to have extra beer on hand when you serve them. They are super easy, and can be modified to your liking, but they will be remembered by all who come to the party, to be sure.

I made these last night for Pick a Chef Fall 2006. I couldn't find any ground habanero pepper, so I added a bit of extra chipotle pepper and a packet of Goya Sazon Picante to make up for the missing habanero. I knew that DH would enjoy these (MAJOR chile-head), but I wasn't so sure about myself. Well, I was pleasantly surprised. These were actually not very spicy at all (of course, I'm sure that they would be if I had added the habanero powder to them). They were slightly sweet with a bit of a very complementary chile kick. The smokiness of the chipotle goes so well with the maple. DH's workers will be really happy on Monday when he shows up with a giant bag of spicy peanuts for them to snack on. I'll have to make these again sometime when I can fird the habanero chile powder. Thanks for posting!
Heat the maple syrup in large skillet over medium-high heat until it is thin, add the spices,stir until blended, and immediately add the peanuts stirring well, and often until all peaunuts are thoroughly coated with syrup and spice.
Remove from heat and let cool.
They should not be too sticky when they are cooled, if so, you have used too much maple syrup.
Add more or less spice to suit your needs.
I find the combo in this recipe to be spicy, but bearable.