Now That's a Spicy Meat-A-Ball!! ( Meatball )
Cynna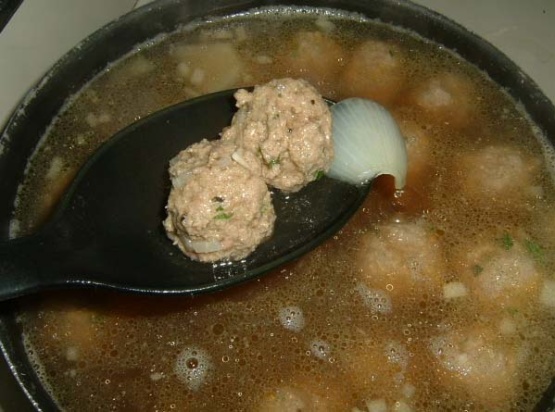 A mexican-flavored meatball. Smoky, spicy, zippy and fresh. Delicious served with penne pasta and my Cilantro-Cumin Bechamel Cilantro-Cumin Bechamel. You can simmer these in beef broth as I listed or you can simmer them in a sauce of your own choosing. I save the beef broth and freeze it to use as a soup base. Mmmm!

Top Review by Halliy
They stuck together wonderfully. I subbed some dried corriander because i didnt have any cilantro. I think the cilantro would have brought to it what i thought was missing. It was flavorful but not hot (spicy). and i only cooked an hour. Too hungry and anxious. Thank you!
Mix all ingredients (except water and beef broth) in a large bowl by hand.
Roll meatballs to about the size of a golf ball.
Add water and beef broth to a large pot and bring to a simmer.
Drop in the meatballs.
Simmer for about 2 hours.
When done, drain meatballs and serve.
You may either discard the broth or use it to make a soup.
Enjoy!