Novelty Gift - a Jar of " Nothing! "
Um Safia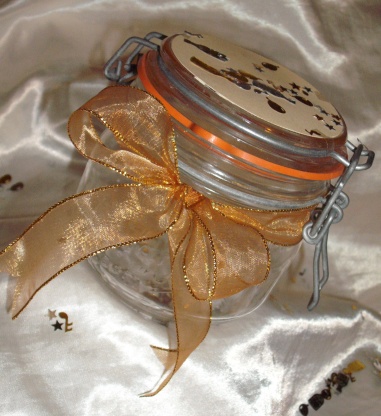 As soon as I saw this idea, I knew I had to post it here! Print or write this onto a piece of card : Didn't you say "nothing"? When you were asked what you wanted for your Birthday, Anniversary, Graduation or Christmas. Don't you remember saying NOTHING? Well this time someone heard you & searched high and low to find this perfect gift for you. I chose a French Kilner jar as they are pretty & very useful but you could really use any jar you like!

Cute idea...when my little sister was in second grade they did something like this, but blew kisses in a jar. So it was a jar full of love. Mom still has it on a shelf and my sister is 35 years old.
1

kilner jar
ribbon
paper
Cut a small piece of paper - large enough to fit your saying on. It's nice to flute the edges or shape then slightly.
Write or print the saying onto the paper & glue it to the jar.
Tie a piece of ribbon around the lid & form into a bow.