JustJanS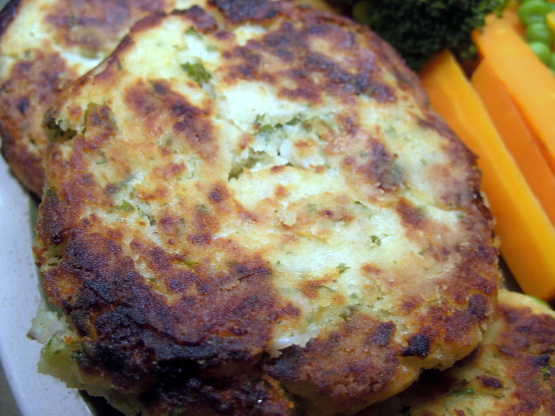 This recipe is from "The Rustic Table" by Constance Snow.

These were great thanks-perfect cold weather comfort food with so little fat. Russ cooked his in a pan with oil, and mine in the oven with spray oil. He tasted both and said his were moister and the fish taste came through more, but as I didn't taste his, I was really happy with what I got.
In a large bowl mix together flaked fish, mashed potatoes, onion, 1/4 cup flour, eggs and parsley. Season to taste with salt and pepper. Form the mixture into 12 small patties.
Place the remaining 1/2 cup flour in a shallow dish and season with salt and pepper. Stir to mix well.
Heat about a 1/4-inch of vegetable oil in a heavy-bottomed skillet over moderately high heat. Dredge the fish patties in the seasoned flour, shaking off any excess and add them to the hot oil. Cook untill browned on both sides; about 8 minutes total, turning once. As the patties are cooked, transfer them to paper towels to drain. Serve hot.