Nothin' Much Lima Bean Soup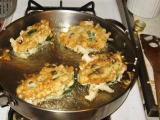 Want a new, great-tasting bean soup? Well, here you go -- cheap, very easy to prepare, fairly quick, and hearty flavor. This is bean soup that will stick to your ribs. I worked on this one for quite awhile and I think it's about a good as it's ever going to be -- everyone here at home likes it anyway and it's a great new way to prepare lima beans. The name? When I'm sneaking around, cooking something really good like this soup, the smell inevitably draws the curious into my kitchen and they always say, "Whatcha cookin'?" And I always respond, "Nothin' much." And then I make them wait to find out!
Directions
Combine all ingredients in a large cooking pot and simmer for about 3 hours, covered, stirring occasionally.
When the beans are tender, the soup is done.
Most Helpful
Nothin' much but a WHOLE LOT of YUMMY!!!! Thank you for sharing this one. I didn't have chicken stock, canned ham, scallions or green pepper. Instead I used a ham hock and 1/2 an onion and one bouillon. I'm sure the green pepper would be delicious. I will add next time. Love this soup!!!
I read the review on this and I had to try it. I followed the previous reviewers advice and did this in my crock pot. i got up this morning at 6:45 a.m. and put everything in the crock pot and I was able to eat it for lunch. I did soak the bean over night. Instead of the 4 cups of water and the bouillon cubes, I used 2 extra cans of chicken stock (for a total of 3 cans. Instead of the canned ham I used smoked ham hocks. Instead of scallions I used 1/2 diced onion. I used ingredients from the same familuy so I feel I didn't alter the recipe too much. I have to honestly say that people at work were eating out of my bowl (I took my lunch back to work). Not only did I eat it for lunch, I ate it for dinner also. Tank you for sharing your recipe. If the pictures turned out halfway decent I will post pictures.
I was looking for a recipe that resembled what my Mom used to make and stumbled on this one. I did NOT use the diced tomatoes, or carrot (didnt have a carrot) and I substituted the canned ham for 2 large smoked turkey drumsticks (because we dont eat pork). I soaked the beans overnight and put the rest of the ingredients in a crock pot on low for approx 6 hours or until the beans were tender. I gently pulled the turkey legs out of the crock pot and removed the meat off of the bones and discarded the skin (turkey legs have lots of little bones thats why I say remove them gently so they dont completely fall apart on their way out cuz they will they are super tender and delicious). This was very much what I was looking for and it turned out amazing. Im sure the tomatoes would have been good in it too I just didnt use them because I dont remember there being tomatoes in my Moms Lima Bean Soup.