Nothin' Much Lima Bean Soup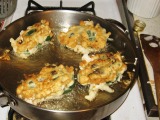 Want a new, great-tasting bean soup? Well, here you go -- cheap, very easy to prepare, fairly quick, and hearty flavor. This is bean soup that will stick to your ribs. I worked on this one for quite awhile and I think it's about a good as it's ever going to be -- everyone here at home likes it anyway and it's a great new way to prepare lima beans. The name? When I'm sneaking around, cooking something really good like this soup, the smell inevitably draws the curious into my kitchen and they always say, "Whatcha cookin'?" And I always respond, "Nothin' much." And then I make them wait to find out!
Directions
Combine all ingredients in a large cooking pot and simmer for about 3 hours, covered, stirring occasionally.
When the beans are tender, the soup is done.