Not Your Ordinary Scalloped Potatoes With Ham
Debi9400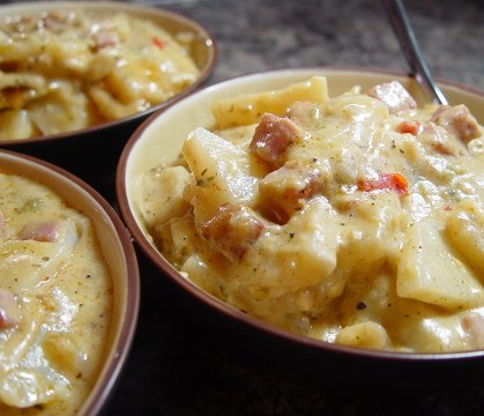 I married a wonderful man of Ukrainian ancestry who frequently requests scalloped potatoes and ham. I like food with a bit of flavour and spice so find the usual recipes sort of bland. Decided if I had to make them, they were going to have to be kicked up a notch. So this is it - my version - hope you enjoy it. * if you don't like it as spicy, reduce the cayenne and chili pepper to 1/2 tsp each. Also, asiago or parmesan cheese can be used in place of the romano.

This is a winner at our home!! Like nothing I've prepared previously, but it will be a staple here! Thanks for posting!
Preheat oven to 350°F.
In a large saucepan, melt butter over medium heat; using a wooden sppon, blend in flour, salt, pepper, cayenne pepper, chili pepper and garlic powder.
After blended, stir constantly for 1 further minute.
Remove from heat and graduallly stir in milk. Return to heat when mixed well and cook until it thickens. Add dry white wine, stir until thickened again.
Fold in onion, bell pepper, diced green chilis, minced jalapeno. Fold in Ham and cheeses. Mix well.
Place sliced potatoes in a large bowl and pour mixture over top. Stir gently then pour mixture into a greased 13x9 inch glass baking dish. Cover with foil.
Cook at 350°F for 30 minutes. Remove foil and continue to cook for a 1 hour.
Remove from oven and let stand 10 to 15 minutes before serving.