Not Your Ordinary Minestrone Soup!
Prep 35 mins
Cook 50 mins
I found this recipe I think in the local Sioux Falls newspaper.... it is so good! Not full of salt and plenty of veggies! (For an even fresher taste, I like to use 4 cups of pureed fresh seeded roma tomatoes)
Directions
In a large stock pot, over medium-low heat, heat olive oil and saute garlic for 2 to 3 minutes. Add onion and saute for 4 to 5 minutes. Add celery and carrots, saute for 1 to 2 minutes.
Add chicken broth, water and tomato sauce, bring to boil, stirring frequently. If desired add red wine at this point. Reduce heat to low and add kidney beans, green beans, spinach leaves, zucchini, oregano, basil, salt and pepper. Simmer for 30 to 40 minutes, the longer the better.
Fill a medium saucepan with water and bring to a boil. Add macaroni and cook until tender. Drain water and set aside.
Once pasta is cooked and soup is heated through place 2 tablespoons cooked pasta into individual serving bowls. Ladle soup on top of pasta and sprinkle Parmesan cheese on top. Spray with olive oil and serve.
Reviews
Most Helpful
Fabulously delicious soup. I used all chicken broth and did not add the oil at the end, but everything else was true to the recipe. I like adding the cooked pasta to each serving--keeps the pasta from soaking up all the broth. Fresh herbs were a plus. Thanks for posting.

This was delightful and delicious, although I did not follow the recipe exactly. I only used 1 large zucchini, as my pot was beginning to get too full. Rather than cooking the pasta separately, I added it dry to the soup during the last 15 minutes of simmering. Then, at the very end, I added the parmesan and stirred it in until dissolved. I did not use the olive oil at the end. We really enjoyed the garden-fresh flavors of this soup. Made for Kittencal's Fall Mini Cook-a-Thon.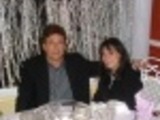 I made this a day ahead and chilled it to blend the flavors, I did do a few amount adjustments and omitted the zucchini, I only use zucchini from my garden it's just to expensive to buy right now, also I used dried oregano and basil, I omitted the olive oil at the end, this was included in a take-home pack for my DS and was thoroughly enjoyed, thanks Kitty!