Not Your Mother's Coleslaw!
SaraFish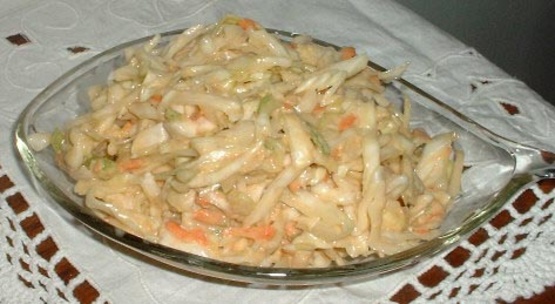 As mentioned above, this is definitely not your Mother's cole slaw! It has a spicy and savory flavor I think you will enjoy.

I mmade the slaw with all of the ingredients and my husband would not eat it. I did not like it that much either. Then I omitted mustard, ketchup, Worcestershire sauce and onions. My husband and I liked a lot better, however we both like my original cole slaw better. Thanks for your wonderful recipe and cooking site. I give recipezaar 10 stars. Nancy
Put mayonnaise and mustard in a bowl large enough to hold complete mixture, but shaped so that the mixture can be beaten with a fork.
Beat mayonnaise and mustard until combined.
Add olive oil slowly, beating all the time.
Beat until mixture has returned to the thickness of original mayonnaise.
Add Louisiana hot sauce, continuing to beat.
Add ketchup and keep beating.
Mix in garlic salt.
Add wine vinegar (this will thin the sauce down).
Beat mixture thoroughly, adding the lemon juice as you do so.
Taste and add salt and freshly ground black pepper, to taste.
Place shredded cabbage, mixed peppers, and onions in a large salad bowl.
Pour sauce over and toss well.
Refrigerate at least an hour before serving.
Tastes even better the next day.