Not Your Grandma's Egg Salad (Curried Egg Salad With Shrim
Derf2440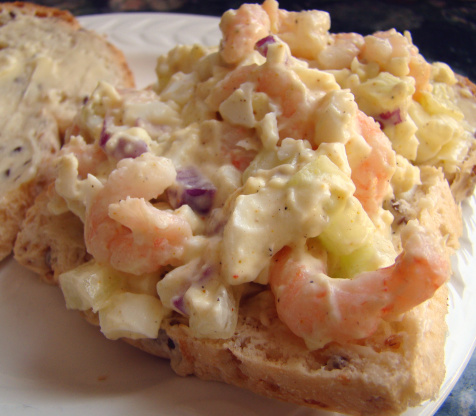 ** The 35 minute cook time is for the prep of the hard boiled eggs. I came up with this after making TeresaS's wonderful "Curried Stuffed Eggs". I have a hard time not taking recipes to the next step so I came up with this rather special take on egg salad. This is awesome as a salad, as a sandwich on a croissant or as a canapé. I really recommend you make this ahead - the flavor is so much better after it has had a chance to intermingle. *TeresaS's recipe called for Dijon mustard, but it turned out I didn't have any on hand, so I used lemon mustard and it was great, but the Dijon would be great too. The prep time is based on having hard cooked eggs on hand, otherwise plan on 35 additional minutes. ** The second time I made this, I added 2 spears of finally chopped Kroger brand Candied Dill pickles - really added to the flavor.

Made this recipe at the suggestion of a F-member. I chopped the shrimp into medium dice as I wanted the eggs to dominate the dish. After it was done and chilled, I thought it could use more spicing so I added some garam masala and gr. ginger. Not a lot but it did pep it up. I stuffed into toasted french bread and topped with scallion strips. Along with the other things I served,it made a great luncheon dish.
Mix together the mayonnaise, curry powder, mustard, and cayenne together in a small bowl and set aside.(If you don't have lemony mustard, a squirt or two of lemon juice will add a nice zing).
In a mixing bowl combine chopped eggs, celery, onions, and shrimp and season with pepper (I don't add salt as I feel the shrimp adds enough salt flavor, but that is a personal thing). Stir in the dressing and mix thoroughly - cover and refrigerate, the taste improves as it has a chance to blend.
**If you do not have hard cooked eggs on hand, put eggs in pan with cold water, a pinch of salt, and a tablespoon of white vinegar. Once water comes to boil, cover, turn off heat and let simmer 20 minutes. Cover eggs with ice water for 10 minutes, drain, crack, and peel.