Not so Irish, Green Tortilla Appetizers
Deantini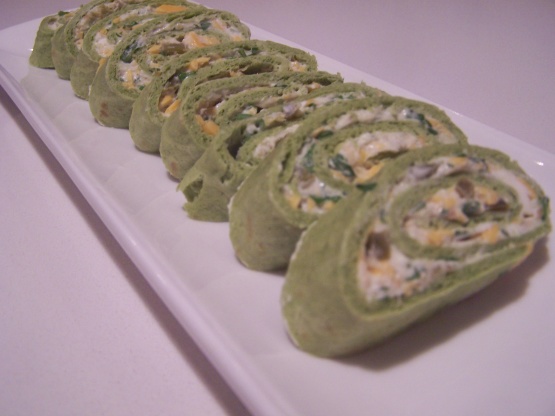 Perfect for St. Patrick's day. Easier if you make ahead to provide time for them to firm up before slicing.

Very easy recipe, but the green chilies and green salsa didn't mesh well with the cream cheese and the spinach tortilla. The freshness of the cilantro and green onion was a nice touch, but unfortunately, these bombed as a St. Patty's day appetizer despite the green look.
Combine all ingredients except tortillas. Stir well to blend.
Spread a thin layer on one side of each tortilla. Roll up jelly roll style.
Wrap in plastic wrap individually and chill. I have made up to two days ahead and still have great results.
Remove from wrap and slice into approximately 3/4 to 1 inch slices. The end slices are usually not so pretty so these can be a chef's treat.
If you like things a little spicier you can add jalapenos into the mix.