Not-So-Honest Roast Vegetables
GT in SA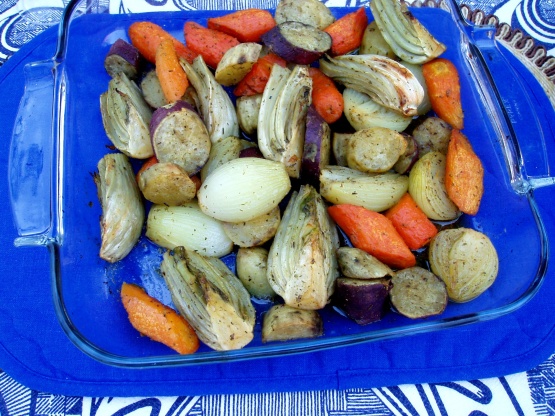 Colourful, tasty roast vegetables with the minimum of effort. I usually pre-cook and then marinate the par-cooked vegetables in the oil-herb mixture overnight. The ingredients can be adapted to whatever your choice is.
Pre-cook vegetables in microwave on autocook cycle for potatoes but remove 4 minutes before completion of cook cycle. Allow to cool.
Grind salt, rosemary and garlic in mortar and pestle to a paste.
Add paste and olive oil to cooked vegetables in ziplock bag and shake to coat.
Marinate vegeables overnight in refrigerator.
Preheat oven to 280 Centigrade.
Place marinated vegetables in ovenproof dish and roast for 30 minutes at 280 Celsius.
Serve.