Not Really Stuffed-Stuffed Pork Chops
PaulaG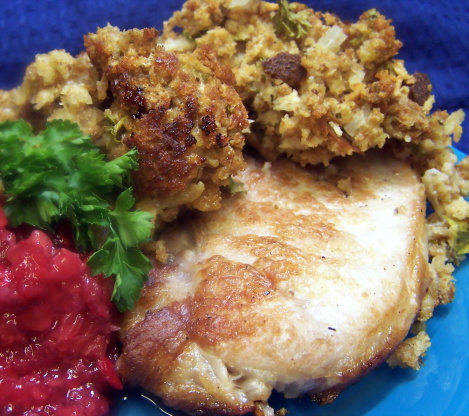 ATTENTION: Several reviewers have had to add additional water to make this recipe work. I decided not to change the recipe itself, because I was afraid that it would confuse others who may be reading the reviews. Please take the time to read the reviews to see comments on additional liquids....thanks!!! This is a recipe that I got out of the cookbook Aunt Paula sent to me in the cookbook swap. I made a few minor changes to make the recipe work for me and DH. I did change the name from Mom's Stuffed Pork Chops to the name I chose because they are really not stuffed, but you have the same effect. Hope you enjoy this recipe as much as we did.

This was really good but I did change it up some. I doubled the recipe for my family. I used celery salt instead of celery. I also used vegetable broth instead of water. I forgot to add the egg but we didn't miss it. I cooked my chops for an hour on the grill in the broth and then I cooked another 45 minutes with the stuffing on top. We all liked this.
Brown chops quickly.
Place chops in bottom of casserole dish.
Pour water and chicken granules in pan that chops were browned in and stir.
Mix remaining ingredients in bowl.
Pour water mixture in bowl and mix well.
Mound stuffing on top of chops.
Cover and bake@ 350 45 minutes.