Catnip46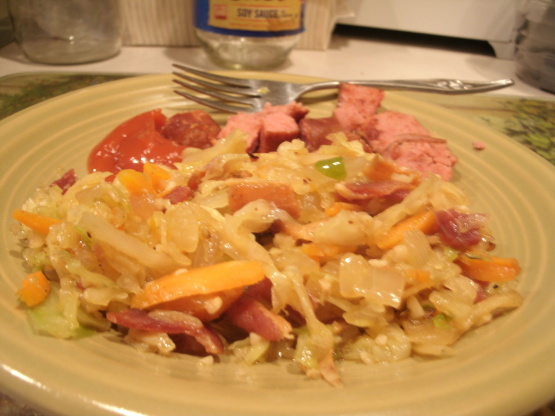 I live alone so when I buy a bag of coleslaw mix I don't even use half of it. I hate to see it go to waste so I substitute the slaw mix for the 1/2 head cabbage this recipe calls for. I use my own judgment on the amounts of the other ingredients it calls for. Easy to make and tastes great.

This is my 2nd try at reviewing this recipe - can't believe the 1st one went *POOF*! BUT - make this - soon and often. Cooked fresh kielbasa in water - removed from skillet - used the left over water to make this - served with fried green tomatoes and the kielbas - WHAT A FEAST! I never ever would have thought to put the hot pepper in here - but so glad I did! (When I was younger I wouldn't eat cabbage - what a stupid kid!) Will make often here! THANK YOU!
Slice Cabbage. Finely Chop Onion. Finely Crush Garlic Cloves. Chop Bacon into small pieces.
Fry the Onion and Garlic (do not brown)
Add the chopped Bacon
Saute gently until Onions and garlic and bacon are cooked.
Add Cabbage and stir all ingredients together
Add Salt and Pepper.
Add the vinegar and stir.
Add chicken stock.
Cook slowly in a covered pan for 20 -25 minutes stirring occasionally.
Allow to stand for 10 minutes before serving.