Not-Just-For Easter Carrot Cake
Prep 45 mins
Cook 30 mins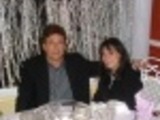 I traditionally used to make this for dessert on Easter Sunday, but I have had so many requests for it at all times during the year. It is a guaranteed hit no matter when it is served. Just be prepared for a bit of work. You don't get a cake this wonderful by taking shortcuts! (While this looks similar to another recipe posted here, it diverges in many aspects.) Also, this cake needs to be made a day ahead of time and refrigerated overnight, which is not reflected in the prep time.
Directions
Preheat oven to 350 degrees. Grease three 8" round layer cake pans, line with waxed paper, then grease and flour waxed paper.
Combine first 7 ingredients in a medium bowl, then set aside.
In a large bowl, combine both sugars, buttermilk, oil, eggs, and vanilla until blended.
Add flour mixture, then carrots, pineapple, walnuts, coconut, and raisins, stirring just until incorporated.
Pour batter into prepared cake pans. Bake at 350 degrees for approximately 30 minute, or until a cake tester comes out clean. Cool in pans for 10 minutes, then loosen cake from edges of pan with a sharp knife and invert onto wire racks. Peel off waxed paper and let cool completely.
Meanwhile, make Cream Cheese Frosting: combine butter and cream cheese in a large mixing bowl, beating until light and fluffy. Add sugar, orange rind, and vanilla, mixing well.
When cakes are cool, spread frosting between layers and on top and sides of cake. Garnish with marzipan carrots, if desired. Cover and refrigerate overnight before cutting.
Reviews
Most Helpful
We do love carrot cake, & although I usually make mine withough frosting (just a heavy, soaked-in glaze), I did make the frosting this time, & admit to using a nicely rounded tablespoon of orange zest in it! The cake is wonderfully delicious & well worth making again, for sure! Thanks for sharing the recipe! [Tagged & made in Please Review My Recipe]
This recipe is a keeper! Absolutely delicious - I will make this again and again. Thank You for posting!!!
I know this isn't supposed to be just for Easter carrot cake, but I opted to make this for Easter. First thing, this frosting is AWESOME! Absolutely delicious. And it makes PLENTY. I frosted in between the three layers of cake and all around it, and there was still some left over. One thing about the recipe that was confusing - Step 4 says to add the coconut, but no coconut was listed in the ingredients. I didn't have any coconut on hand and didn't know what to do (panic set it), so I added a dash of coconut extract to the batter. I don't know how much this will effected the taste and/or texture of the cake. It would have been really helpful to have had the amount of coconut specified in the ingredients. Also, I omitted the walnuts - personal preference. I had to bake the cakes for about 35 minutes until my toothpick came out of the center clean. STILL, This cake was SUPERB! I will make this EVERY Easter- my Dad, Uncle & Husband all exclaimed how wonderfully moist & flavorful it was. It was pretty labor intensive (I'm glad I used my food processor for all of the grating), but the end results were totally worth it. SO much better than the store bought version! Next time I'll try to make the cake prettier, but it couldn't have tasted better. GREAT RECIPE! Made for PRMR Tag Game.