Not Just Another Pasta Salad
axxo3846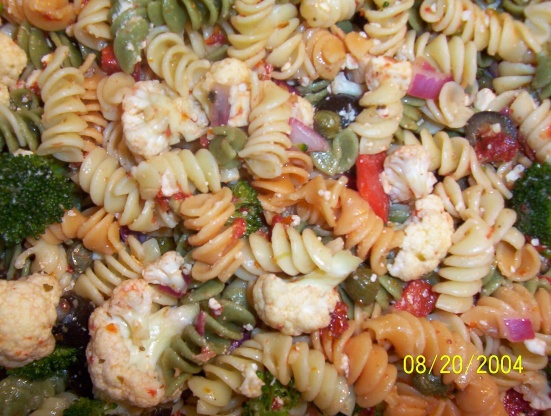 Truly, a different, delicious pasta salad. So yummy I have had guests make a meal out of it. It is easily doubled to feed a large crowd. Wonderful served as a lunch with crusty bread.
1

(16 ounce) box spiral shaped pasta or 1 (16 ounce) box shell pasta, cooked

2 -3

roma tomatoes or 2 -3 tomatoes, seeded 1/2 inch diced
1⁄4 cup red onion, diced
3⁄4 cup pitted kalamata olives or 3⁄4 cup canned olive, halved
1⁄8 cup sun-dried tomato, reconstituted,chopped
1⁄2 cup cauliflower, small pieces
1⁄4 cup broccoli, small pieces
1⁄4 cup roasted red pepper, 1/2 inch diced
1⁄4 cup capers
3⁄4 cup feta cheese, crumbled

4

tablespoons grated parmesan cheese

MAGIC SALAD DRESSING

4

cloves minced garlic
3⁄4 cup olive oil
1⁄4 cup red wine vinegar
1 1⁄2 tablespoons capers, reserve 1 t. liquid
1⁄4 cup lemon juice
1⁄4 teaspoon black pepper

1

teaspoon salt
Combine all salad ingredients except parmesan cheese.
In a blender mix all dressing ingredients.
Pour enough dressing to moisten sald to your preference over salad and toss carefully, adding parmesan cheese.
NOTES: This recipe is NOT written in stone, feel free to up amounts or lessen them according to your likes and dislikes.
You should have extra dressing which will not be a problem as the dressing is delicious.
I serve the dressing on the side for those who like a wetter salad.