Not Fried, Fried Ice Cream
oriana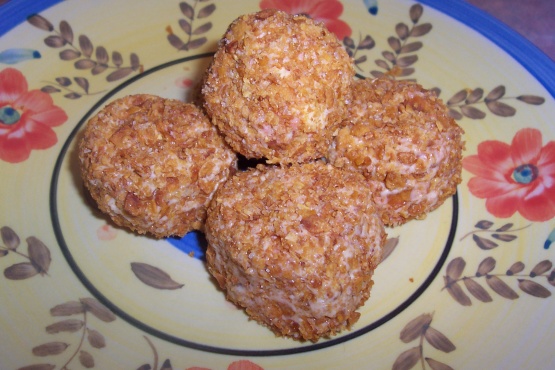 Can't remember where I found this recipe, but it's great for Mexican night, or Cinco De Mayo!! (New Note: If you use the new Special K cereal with cinnamon and pecans, this is REAL delicious! Add the sugar and not as much cinnamon, no butter, and you don't have to bake it! Very crunchy and SO DELICIOUS!!! I used about 1 1/4 C Special K.)
Was served this dessert at sweet sister's dinner. She drizzled carmel sauce over it - we loved the crunchy part so much that we even added that sprinkled on top.
Make 8 vanilla ice cream balls and freeze on wax-lined cookie sheet for about an hour.
Mix remaining ingredients and spread on a cookie sheet to bake at 350°F until crisp and golden.
(Cooking times will vary according to taste and oven temps.) Let cool.
Roll ice cream balls in the cooled mixture and refreeze for 2 hours more.
Serve with honey drizzled over each and enjoy!
*See new note above recipe*.