Bergy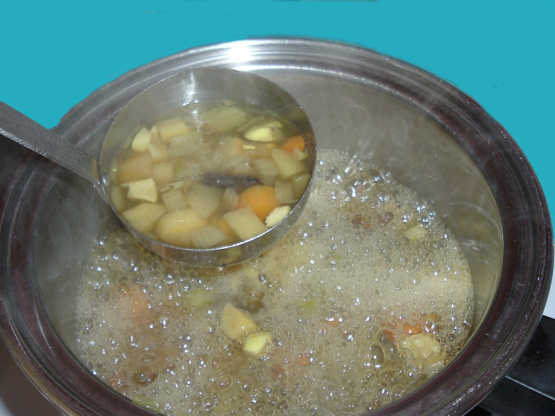 This veggie chicken soup is based on a Mollie Katzen recipe. Instead of discarding the vegetable I sometimes mash them, add some eggs, oil and matzo meal and make them into a kugel.

This is a really good veggie broth that can be made in a crockpot and used for a variety of clear broth style soups. After the simmering vegetables are removed I added diced carrots, cauliflowerettes, and a quarter cup of French lentils, simmering until the lentils were just tender. Garnish with finely minced parsley and chives. Very nice! Thanks, Mirj.
Combine everything in a large pot.
Bring to a boil, lower heat, and partially cover.
Cook slowly for 1-2 hours.
Turn off heat and let soup cool to room temperature.
Strain out and discard all the vegetables.
Heat gently just before serving.
We cook matzoh balls separately and add them to the soup as we serve it.
Matzoh balls cooked or reheated in the soup will turn a beautiful golden color thanks to the turmeric.