lets.eat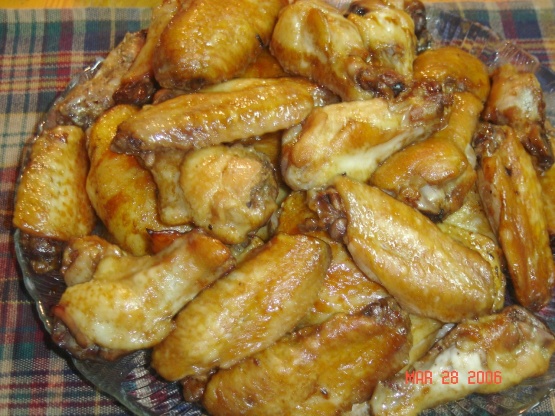 OJ, sherry, soy sauce and not a HOT in sight. From an old 50s cookbook.

Very good recipe. What you might get at a chinese place. Just a note .... I did cut the soy down to 1/4 cup and used a whole teaspoon of garlic powder. I also split the sugar between white and brown (1/4 C. of each). Will be making these MANY more times!! Thanks for posting.
Roll wing sections in melted butter. Place them on a jelly roll pan. Line pan with foil if desired for easier clean up. Bake for 30 minutes at 325 degrees.
Combine sauce ingredients in a sauce pan and bring to a boil. Boil for 1 minute.
After 30 minutes, pour sauce over wings. Bake one hour longer, turning the wings every 15 minutes.
Serve warm.