JustJanS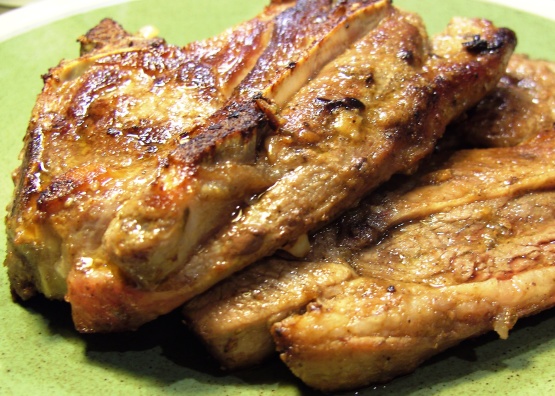 Nostimini is a Greek herb mix introduced to me by Kookaburra and this recipe is inspired by an idea she gave me on how to use it. She suggested overnight marination but that was just too long for me to take so I've posted as I cooked it and it was wonderful, but overnight marination would be worth a try if you plan in advance. Note the preparation time does not include marination time.

Top Review by awalde
We didn't have "Nostimini", so we prepared following mix (suggest in http://www.food.com/bb/viewtopic.zsp?t=267946&sid=fe012fe2cc4d6dadd2c9d04a4da13723, gives about 3 portions): <br/>1 Tbs. dried oregano <br/>1 Tbs. dried rosemary <br/>1 Tbs. dried dill <br/>1 Tbs. dried mint <br/>2 Tbs. fine salt <br/>2 tsp. pepper <br/>2 tsp. ground garlic <br/>2 tsp. lemon zest (I used fresh one)<br/>2 bay leaves<br/>We marinated it from morning to grilled it in the evening.<br/>The meat was really delicious and for us the marinating time was perfect.<br/>We are used to meat lamb with lemon. I liked the sherry very much, perhaps I would add more next time.<br/>We combined this dish with yogurt sauce and bread from the wooden oven. A real great meal. Thank lot for posting this recipe.
Combine olive oil, sherry and garlic and rub all over the lamb chops.
Marinate in refrigerator for 30 minutes.
Sprinkle nostimini generously over the lamb and rub well into the meat. Return to refrigerator on a plate for a further 30 minutes.
Cook on on an oiled hot BBQ grill (or in a pan) until done to your liking.