Nostalgia Date-Nut Loaves
chia2160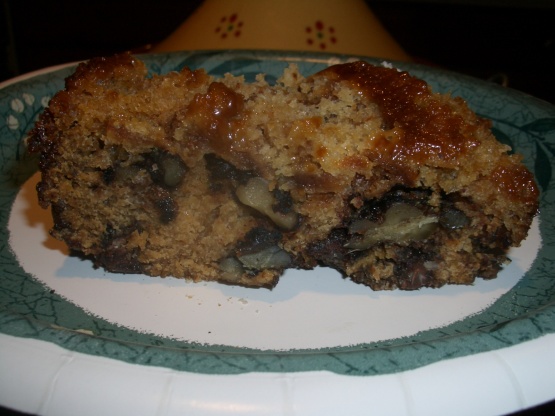 From Hershey. Haven't tried yet.

this is fantastic! i thought i had 1 1/2 bags of dates, but i only had 1/2 bag, so i added some chopped dried apples, pears and plums to make an even cup. i used 2 regular loaf pans and baked for 1 hour. these are dense, moist,nutty, fruity, delicious. i brought a loaf into the office and it disappeared. this one's a keeper.
Pour water over dates in medium bowl; let stand 15 minutes.
Heat oven to 350°F Grease four 3-1/4x5-3/4x2-1/4-inch foil miniature loaf pans.
Beat sugar, egg, oil and vanilla in large bowl on high speed of mixer 3 minutes. Stir together flour, baking soda, salt and baking powder; add alternately with dates to egg mixture, beating until blended. Stir in walnuts and small chocolate chips. Pour about 1-1/4 cups batter into each prepared pan.
Bake 40 to 50 minutes or until wooden pick inserted in center comes out clean. Cool 10 minutes; remove from pans to wire racks.
Cool completely. Wrap and store overnight before slicing.