Norwegian Stuffed Hard Cooked Eggs
twissis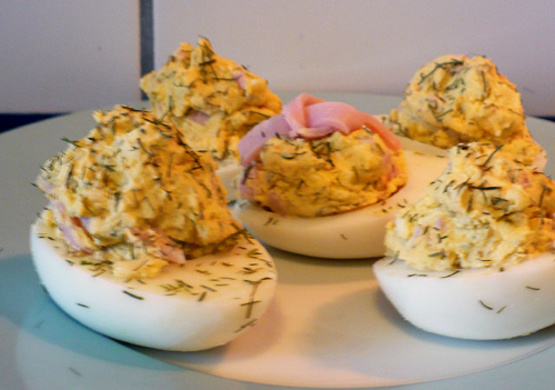 Made for a fellow Goddess of ZWT-9 & Family Picks, DH & I are big fans of devilled eggs & I have made new fans of our Icelandic friends & family in my time here. Like other reviewers, I added dill to the egg yolk mixture & to the surface as directed. They were otherwise made as written & they are special for the genre. The use of butter vs mayo produces a rich flavor & texture when combined w/the cheese & ham. I served them to dinner guests as part of a multi-recipe starter tasting-plate & was a proud hostess. These eggs are at least a tie w/another recipe for our favorite of the genre. Thx for sharing this sure-to-be-repeated recipe w/us.
4

eggs, hard cooked

22.18

ml ham, finely chopped

9.85

ml butter, soft

44.37

ml jarlsberg cheese, finely grated

4.92

ml finely mined dill
Cut eggs in half, lengthwise.
Mix together yolks, butter, ham and cheese.
Sprinkle with dill.
Fill eggs and serve.