Prep 30 mins
Cook 1 hr 20 mins
Delicious! Tart and sweet at the same time! This recipe is old, and I have no idea where it came from...but it is very good. Try it and let me know what your taste buds tell you... This dish goes good with pork of any type.
Directions
Chop cabbage fine, and put in a big pot.
Add butter, vinegar, sugar, water and salt.
Cook for 1hour on low heat.
Add jelly and cook for 20 minutes longer.
Most Helpful
This is a recipe we eat quite often in Belgium. Towards the end of the cooking time, we add some cut up apples. Don't forget the bayleaf.
That would be the best red cabbage recipe I've ever made! The kitchen smelt like a German Gasthaus! I have printed this one and will definitely cook it again! Thanks for sharing!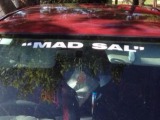 I made this for Jul, along with recipe#136568 A number of similar recipes result in watery cabbage, but this one did not disappoint. Just the right consistency! I was delighted with this and wouldn't change a thing.