Norwegian Potato and Rye Pancake Flatbreads - Lefse
CandyTX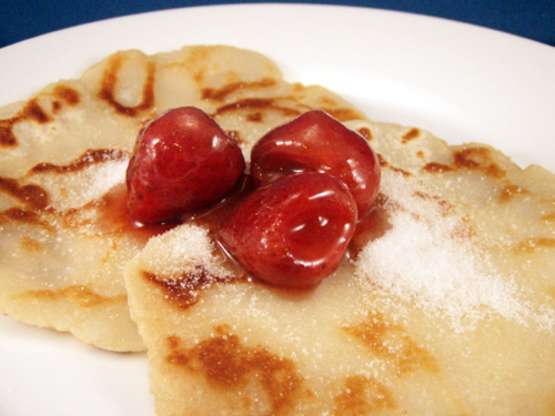 These famous Norwegian Potato Pancakes are more like flatbreads; they are traditionally eaten with butter and cream as a dessert, or sprinkled with cinnamon sugar as an accompaniment to coffee. I think these would be wonderful eaten with fried bacon and mushrooms, for a delicious brunch and breakfast idea. The Norwegians will also eat these with local goat's cheese, snofrisk, or with dried/smoked reindeer meat.

We REALLY liked these. We put a strawberry compote on top with sugar - very good! I have to share though... Tom says they taste like McDonald's hash browns and dipped some of them in ketchup :-) They were delish both ways (and he is right, they are good in ketchup too!). Made for ZWT3.
Put the mashed potatoes into a large bowl and add the flour, sugar and salt - mix well.
Add some water - bit by bit, kneading well so it makes a pliable dough.
Take little balls from the dough - the size of a small egg and roll them out thinly on a well floured surface.
Heat up a flat griddle, hotplate or skillet and cook the Lefse with a little fat until the dough bubbles.
Turn them over and cook the other side.
When the Lefse have been cooked - they should be smooth and soft.
Eat them as I have suggested in the Introduction!
For Vegetarian make sure the Fat is from a Vegetable product such as vegetable oil not from an animal product such as lard.