Norwegian Parsley Potatoes
PaulaG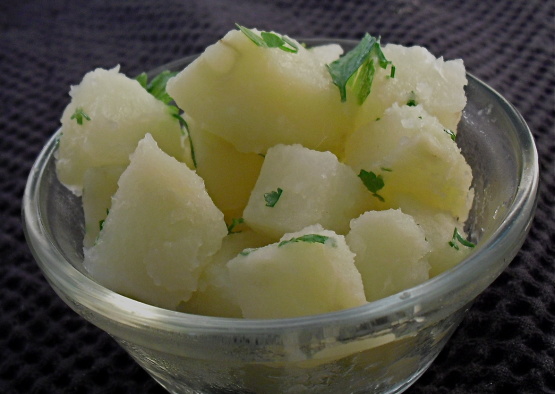 This simple recipe is precisely how my Norwegian born BIL taught my sister to make parsley potatoes. He insists that the potatoes do not taste as good if the salt is not cooked with the potatoes. Once I cooked the potatoes for my sister and didn't put the salt in the water first. He had a fit and wouldn't eat them after taking one bite and asking me if I had salted them before cooking.

One of my favorite basic recipes, just like my mother used to make. I might use just a little more parsley, and maybe add just a little bit of sage.
Put the water, salt and potatoes in a pot and cook until the potatoes are just tender.
Drain well.
Pour the melted butter over the potatoes.
Sprinkle the chopped parsley over the potatoes and toss lightly.
Serve hot.