Shawn C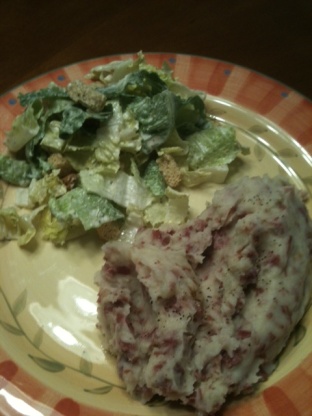 This is a family favorite. My grandfather started making for my dad when he was a little boy- a Norwegian dish that always pleases the whole family and leaves us begging for more. I realize that it may be confusing that there are no amounts listed. This is a "to taste" recipe. And the amounts are equal if you have a 3 lb roast then you use 3 lbs of potatoes. When mashing them together add milk/pot liquor to your preference of consistency. Also the seasonings you add should be to your taste i.e. garlic, salt, pepper, butter or other spices YOU like. Adapt this recipe to your taste and make it YOUR dish! I am now making amounts for those who are totally confused.

The REASON there are not amounts is beacause it is a "to taste" recipe and also depends on the AMOUNTS you prefer to use. If a recipe amount is pound per pound that means that you use equal amounts of each according to what you have. And the milk and butter and seasonings are to your taste and consistency mashed potato preference.
Using the pound for pound corned beef to potatoes wash off any seasoning on corned beef, use any juice on a none seasoned corned beef in the boiling water. with onion and garlic.
Figure 20 minutes per pound for cooking.
Cook at a low boil, high boil will produce a tough roast.
Boil beef with salt and pepper until half way through cooking time.
Remove meat. Cut off all the fat and dispose; dice meat into small tiny pieces and put back into pot. i have actually chopped it up a little more in my food processor.
Wash, peel, and dice potatoes; add to the pot, continue to low boil until potatoes are done.
Be careful not to over cook potatoes.
Drain well over a large bowl to reserve juices (pot liquor).
In another large bowl mash potatoes and beef together adding milk, butter, and salt and pepper to taste. and making sure all are blended well and you have a smooth texture.
If additional liquid is needed, you can use some of the reserved "pot liquor" instead of more milk.
**TIP** For breakfast; fry up some like hash and have with eggs.
Its great!