Annacia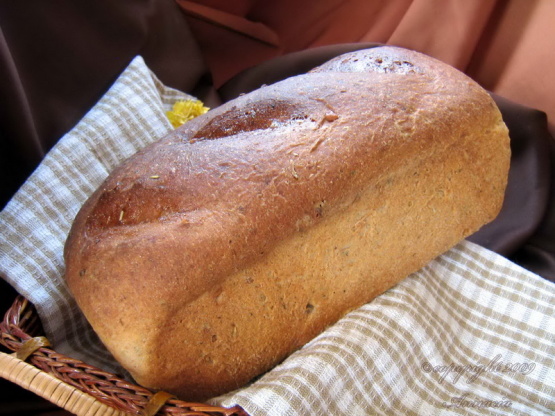 A savory bread that is good with butter or cheese. It goes well with soups and stews. From "Home Cooking" by Mary Poulos Wilde. (Cooking time includes rising time).

Top Review by Kayori
Made this last night, and it was amazing! We didn't have any walnuts, so I just omitted them. Also didn't have whole wheat flour, but I did have medium rye, so I did 2/3 c rye flour and the rest unbleached AP flour. The rye flour made the dough REALLY sticky, so I ended up having to add close to 1/3 c extra flour for kneading, but it eventually became manageable. Popped it in the oven for 30 minutes, and by the time it came out, my B/F was hovering in the kitchen waiting for it to cool. HE COULDN'T GET ENOUGH OF IT! Can't wait to see how it is the next day! Thank you for what is sure to be a staple bread in our apartment now!
1

(1/4 ounce) package active dry yeast
1⁄4 cup warm water (110F-115F)
1⁄2 cup milk, scalded
1⁄4 cup sugar
1⁄4 cup butter

1

teaspoon salt
1⁄4 teaspoon ground nutmeg
1⁄2 teaspoon dried basil, dried, crushed
1⁄2 teaspoon dried thyme, dried, crushed
1⁄2 teaspoon dried oregano, dried, crushed
1⁄2 teaspoon dried rosemary, dried, crushed

1

egg, room temperature, well beaten
2 -2 1⁄2 cups whole wheat flour
1⁄4 cup walnuts, finely chopped
all-purpose flour, for kneading
In a small bowl, dissolve the yeast in the water and let stand until it is spongy.
In a large warm mixing bowl, pour the hot milk over the sugar, butter, salt and herbs; stir to melt the butter.
When mixture cools to 110F -115F, stir in beaten egg and yeast mixture.
Gradually add about half of the flour, stirring first with a wooden spoon or dough hook if using an electric mixer.
Mix in the nuts.
Add just enough flour to make a soft, nonsticky dough.
Turn out on a lightly floured surface, knead until the dough is satiny.
Lightly oil a large, warm bowl and place the dough inside, turning once to cover with oil.
Cover with a clean kitchen towel and let stand in a warm place (80F) until it has doubled in size, about 1 hour and 10 minutes.
Knock the dough back and shape into a loaf.
Place in a buttered or oiled bread loaf pan and again set in a warm spot until it doubles in size, about 45 minutes.
Bake at 375F about 30 minutes or until the loaf is brown and sounds hollow when thumped with your fingers.
Turn out to cool on a wire rack.
Slice thickly and store in a plastic bag to keep it moist.