Norwegian Fish Mousse (Fiskepudding)
WeBees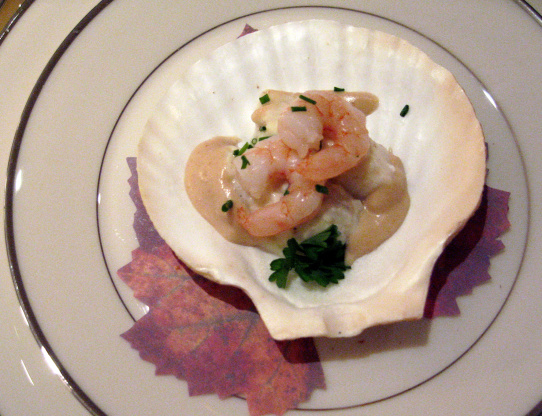 This is light and airy fish pudding - A traditional dish of Norway. You serve this dish with Hollandaise or a mustard sauce. May be served as a first course or as a side dish.

This dish was very light and tasty. It did not "set up" as firmly as I would have liked, so next time I'll cut down on the milk and see if it will firm up. My sons Norwegian girlfriend was really happy I made this for her!
1

lb fish fillet (pike, haddock, cod, basa or tilapia)

2

teaspoons salt
1⁄4 teaspoon pepper

1

pinch nutmeg
1 1⁄2 tablespoons potato flour
1 1⁄4 cups homo milk
2⁄3 cup whipping cream
1⁄4 cup fine breadcrumbs

12

shrimp

2

sprigs parsley (garnish optional)
Rinse and pat dry the fillets, remove any skin, mince the fish, mince several times so you have a fine texture.
You may use your blender but be careful you do not want to puree it - It is better to do it by hand so the fish retains some texture but is finely minced.
Add salt, pepper, nutmeg and potato flour, mix well.
Stir the farce vigorously and slowly incorporate the milk & cream, beating all the time.
Butter a 2 1/2-3 pint oblong mould, sprinkle in the bread crumbs coating the mould.
Add the mousse until the mould is 3/4 full.
Cover with buttered foil or release foil.
Place mould in a larger dish, fill with water.
Bake in 375 oven for approximately 1 hour or until a knife comes out clean.
Invert the mould very carefully.
Decorate with the shrimp & parsley.
Serve with sauce poured over it.
Serve hot or at room temperature.