Bergy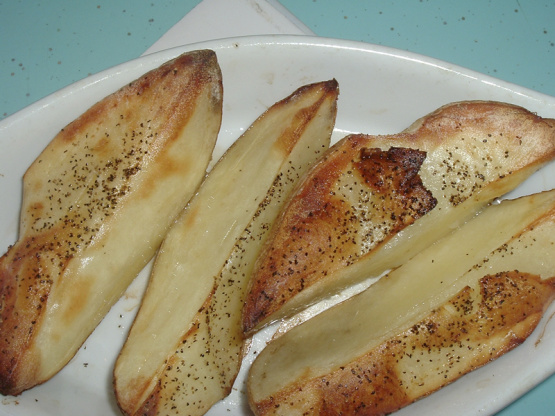 NOTE: In the ingredients it says 3 tsp Montreal Steak Spice the computer would accept this but would not accept the real ingredient Penzey's Northwoods Fire Spice mixture. Use Penzeys's! These potatoes are so easy to make but you will need Penzel's Northwoods Fire Spice mix. They are so good. This recipe is dedicated to SusieD for introducing me to Penzel Spices and her generous nature.
We enjoyed these potatoes very much. I've had the Penzey's Northwoods Fire Spice blend for awhile and was wanting to find a recipe to use it in. I stumbled across this recipe and decided to try it out. Boy, was I glad that I did. This made a delicious, quick and easy side dish. I cut the potatoes, lengthwise into fourths. Also, I did as Hey Jude recommended and baked them covered for 45 mins., then opened up the foil and let them roast for an additional 15 mins. Finally, before serving I sprinkled them with some seasoned salt. My family loved these and gave them 2 thumbs up. Thank you for sharing!!
4

medium sized baking potatoes, peeled, cut in half lenthwise

2

teaspoons olive oil or 2 teaspoons other vegetable oil

3

teaspoons McCormick's Montreal Brand steak seasoning (or other spice mixture)
aluminum foil, for wrapping the potato
Rub the oil over the cut potatoes.
Sprinkle the spice mixture over all of the potatoe pieces.
Wrap in foil, bake in 400F oven for 1 hour.
Enjoy.