Northwoods Blue Cheese Spread
twissis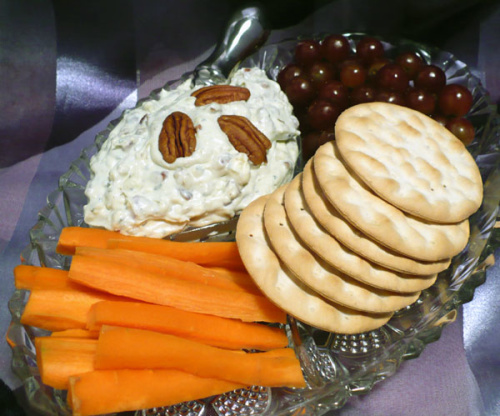 Blue cheese spreads usually contain port, or bacon as another option, but at a party with those who abstain from meat or alcohol, those may not be the best choices. This spread is wonderful for everyone. Bring this out to soften before serving. To extend serving time, you may want to set a dish of this in another dish of crushed ice.

This was a real treat & a nice surprise for DH tonite as b4 dinner finger-food. I made a half recipe for 2 of us, plumped the dried cranberries (recipe did not say) & used pecans as I had them left from holiday baking. All things work here to create a great taste & texture, perfect to serve w/water crackers, carrot sticks & grapes that I used. This will make a very nice quick-fix for surprise guests. Thx for sharing the recipe w/us. :-)
Pulse together cream cheese, mayonnaise, salt, pepper, and hot sauce in a food processor until smooth.
Fold in cranberries, bleu cheese and walnuts.
Chill several hours.
Allow to soften at room temperature before serving.
Serve on toasted split bagels, or with crackers, crudites or grapes.