Northwest Creamy Smoked Salmon Fettuccine Alfredo
Jench65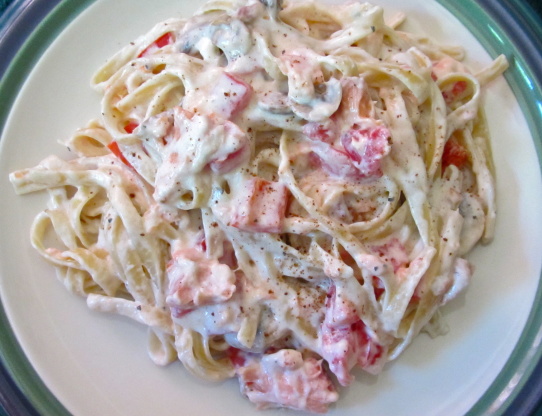 This is my fav. comfort food. I got this recipe from my mother and changed it just a bit. You can use shrimp or any other seafood

Delicious. We had some extra smoked salmon and this made a great meal. Quite heavy and I used about half of the recommended cream cheese. I substituted 1 pressed garlic clove for the powder and added some broccoli.
Bring a large pot of lightly salted water to a boil.
Add pasta and cook for 8 to 10 mis or until al dente; drain.
In a medium saucepan, combine cheeses, margarine, milk, garlic powder, basil and stir over low heat until smooth and creamy about 10 to 15 minutes.
Toss sauce vegetables, smoked salmon, sauce and pasta in a large bowl.
Sprinkle with nutmeg.