3 Reviews
Great pancakes! They brown up nicely, and are fluffy yet satisfying. I made a half-batch using 25% whole wheat flour and got five pancakes. Next time I will use only half the vanilla called for. Thanks for posting this good recipe! Made for PAC Fall 2009.

We loved these. I made small silver dollar sized pancakes and got close to 20. The family gobbled them up and my husband said he loved what ever I did to change our normal pancake recipe. Your our new go to recipe for pancakes. Thanks for sharing!

YUMMMM...I think I've gained about 5lbs thismorning. Better not eat for the rest of the day! These are some serious pancakes, you only need 1 but you'll end up eating 3 haha. Made for PAC Spring 09.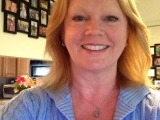 North Woods Pancakes