North Woods Chicken and Wild Rice Soup - OAMC
PaulaG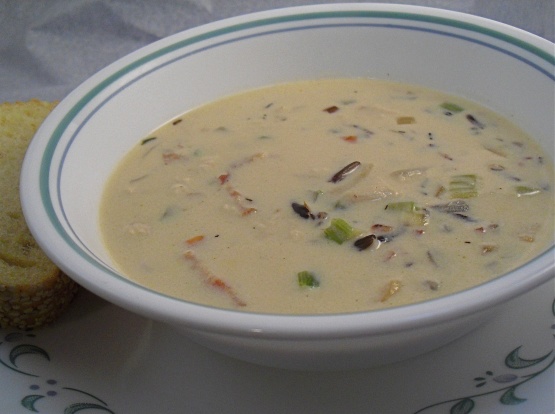 This recipe comes from the cookbook "Don't Panic - Dinner's in the Freezer" . It is really delicious. Good with crusty bread and a green salad. I must admit to using the pre-cooked bacon crumbles (about 1/2 cup) instead of cooking and crumbling the bacon. Sometimes it is just easier! Make sure it is real bacon though, not the imitation bacon bits! Enjoy.
Top Review by Dan C.
Very easy recipe to do. I first tried it with a wild goose breast that I had instead of chicken. If you like a wild game dinner soup...this is one to try. The second time I did this was right after Thanksgiving. I used leftover turkey. Wow!!!! it was great. Try this soup. My family is not a big soup eater but they will ask for this any day.
Melt butter in a large saucepan.
Add onion and celery and saute until tender.
Stir in flour, salt, thyme and paprika. Cook for about 1 minute until bubbly.
Add chicken, broth, worcestershire, sherry, milk and half & half. Cook, stirring, until it thickens slightly.
TO EAT RIGHT AWAY: Fold in rice and bacon pieces. Cook until heated through.
Ladle into bowls and serve.
TO FREEZE:.
Allow to cool. Fold in rice and bacon.
Place in a freezer bag and seal. Label and freeze.
TO REHEAT: Thaw and heat in a saucepan until bubbly. Ladle into bowls and serve.